Sean Combs, business-svengali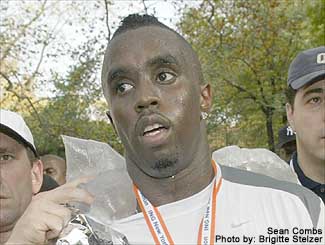 Sean finishing the NYC Marathon
The neccessary Rolling Stone cover.
P.Diddy -
Biography4 November 1970, Harlem, New York, USA. One of the most prosperous of a new breed of entrepreneurs in music, Sean 'Puffy' Combs is a hugely successful Hip Hop artist (under the name Puff Daddy) and noted producer for artists including TLC and Mary J Blige. He also excels in business, with his multi-million dollar Entertainment empire establishing Combs as one of the leading figures in music. Although his sample-heavy sound has been for taking Hip Hop too far into the mainstream, its commercial appeal is unquestionable, and has made Combs one of the most powerful players in American music.
Brought up in the contrasting New York districts of Harlem and Mount Vernon by a single mother, Combs was bright enough to secure a university place, before his musical instincts took over. He danced in a Fine Young Cannibals video, and found a job at Uptown Records, run by Motown Records boss Andre Harrell. By the age of 18 he had been made head of A&R for Uptown, and was involved in successful albums by Mary J Blige, Father MC and Heavy D And The Boyz. Having been fired from Uptown, Combs worked as a remixer before launching his own company, B-Boy Entertainment, in 1993.
There, he quickly assembled a pool of talented RnB and Hip Hop artists around him. Craig Mack's 1994 Flava In Ya Ear single earned B-Boy their first platinum record, and the label enjoyed huge success thereafter, notably with the rapper the B.I.G., and RnB/Hip Hop acts including Faith Evans and Total. Combs also produced other prominent artists including Mariah Carey, Boyz II Men and Aretha Franklin. His involvement in the east coast/west coast gangsta rap feud, which pitched Combs and B.I.G. 2Pac and Marion 'Suge' Knight's was an from his seemingly unstoppable on both the Pop and RnB charts.
Released in summer 1997, the single Can't Nobody Hold Me Down was US number one for almost eight weeks, and was followed by the international number 1 tribute single I'll Be Missing You, a rewrite of the Every Breath You Take, with new lyrics dedicated to the B.I.G. The long-awaited No Way Out was almost inevitably a multi-platinum number 1 album, which earned Combs a 1998 Grammy for Best Rap Album. I'll Be Missing You also won the Grammy for Best Rap Performance.
Come With Me, a collaboration with Jimmy Page based around the Led Zeppelin track Kashmir, was featured on the soundtrack to 1998's remake of Godzilla. Released as a single, it reached US number 4 in July and UK number 2 a month later. Forever was a less effective album, with Combs' Pop nous ultimately swamped by the over-cooked arrangements and gloating raps. Combs' high media profile meant his involvement in a nightclub, in December 1999, dominated the music headlines. He bizarrely announced that he was henceforth to be known as P. Diddy, under which name he released a new album in June.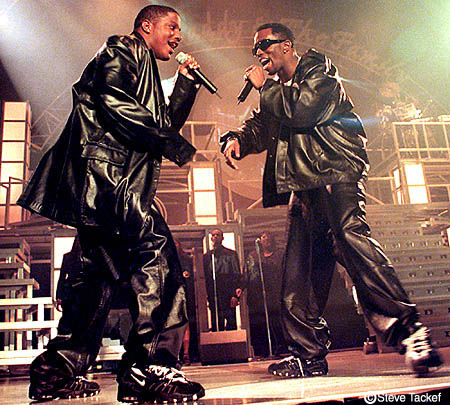 Effect on Nathan:
This dude has inspired every young nigga under 30, who ever watched BET, who ever bought "Notorious B.I.G." and who ever loved Jodeci.
He gave Jodeci their bad-boy look, gave Mary the flair that she rocks so easily, and birthed BADBOY ENTERTAINMENT out of nothing. Bringing it from it's BMG purse strings to the new deal over at UNIVERSAL. Sean "P-Diddy" Combs is a consumate businessman. Hated by many, and loved more by those that realize his worth and presence in today's hip hop industry.